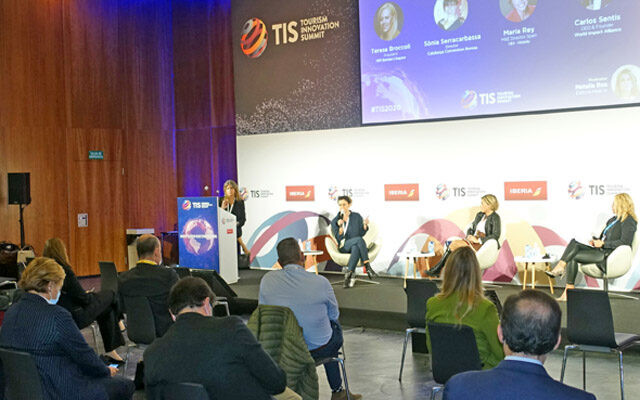 El próximo 10 de noviembre da comienzo en Fibes Sevilla la segunda edición de Tourism Innovation Summit (TIS 2021), una cita imprescindible para los profesionales en busca de las últimas tendencias del sector. El amplio programa del congreso, que se desarrollará en tres jornadas, está dividido en 8 verticales, una de ellas dedicada a los viajes de negocios, cuyo contenido ha sido creado por Discussion board Enterprise Journey y MeetIN.
Durante tres días, la Cumbre de Innovación Turística y Tecnológica – Tourism Innovation Summit 2021 dará a conocer las últimas tendencias del sector ante 5.000 profesionales que acuden a Sevilla en busca de conocimiento y oportunidades empresariales en torno a la Inteligencia Synthetic, el cloud computing, la ciberseguridad, la tecnología contactless, el huge knowledge, el machine studying, la biometría, la reputación on-line o las soluciones experienciales, entre muchos otros contenidos.
TIS 2021 compartirá concepts, propuestas, estrategias y casos de éxito a través de 8 foros verticales: Locations of the Future, Hospitality Tech Discussion board, Journey & Mobility, Actions & Points of interest, Distribution Channels, Leisure & Tradition, MICE y Enterprise Journey.
Todo el contenido de este último foro, que tendrá lugar el 10 de noviembre de 10,30h a 14h, ha sido diseñado y organizado por Discussion board Enterprise Journey y MeetIN. La sesión estará ocupada por varios espacios, con el foco puesto en la motivación, la sostenibilidad, los retos y oportunidades del Enterprise Journey y en la visión de los proveedores.
Uno de los platos fuertes de la jornada contará con la presencia de invitados como Luis Dupuy de Lôme, Basic Supervisor de American Specific International Enterprise Journey; Francisca Mérida, Senior Director of Company Gross sales de Meliá Inns Worldwide; y Asunción Pérez, Gross sales Director para España de Air France-KLM.
Bajo el título de 'Adapt or Die', debatirán sobre las nuevas relaciones entre proveedores y clientes de los viajes de negocios en un mercado que está conociendo profundas transformaciones, en parte derivadas de los efectos de la pandemia. Como señala la moderada del panel, Natalia Ros, socia cofundadora de Discussion board Enterprise Journey y editora de MeetIN. "los clientes finales están demandando otros servicios y un enfoque comercial más versatile. Este panel alentará a los actores clave a discutir estas nuevas necesidades y cómo están innovando para ser competitivos".
'Challenges and Alternatives in Enterprise Journey' es el lema de otro de los espacios de la vertical dedicada a los viajes de negocios, conducido por Óscar García, socio cofundador de Discussion board Enterprise Journey. El panel, en el que los protagonistas serán los journey managers, analizará los planes de las empresas para reactivar los desplazamientos profesionales desde la perspectiva de la seguridad, la eficiencia y la experiencia del viajero.
"Tras la prohibición de viajar debido a la pandemia, muchas empresas han retomado sus programas de viajes bajo un nuevo escenario, especialmente enfocado a la salud y la seguridad. El objetivo de este panel es compartir la experiencia práctica de diferentes empresas en diferentes países qué problemas afrontan y cómo los superan", comenta Óscar García.
Durante la vertical sobre Enterprise Journey de TIS 2021 también habrá tiempo para los aspectos más personales de la gestión de los viajes profesionales y la motivación de los viajeros con la intervención de Nieves Rodríguez, Inspirational Chief y Government & Profession Coach, que será entrevistada por Fernando Sagaseta, director de MeetIN y responsable de Comunicación de Discussion board Enterprise Journey.
"En estas circunstancias tan anómalas, hay dos caminos que pueden tomar los directivos: permitir que esta incertidumbre dañe la cultura y los resultados de sus empresas o aprovechar la oportunidad para transformar el miedo en compromiso, así como construir una fuerza laboral y una organización más sólidas", explica Fernando Sagaseta.
Como destaca Edgar Weggelaar, director de Tourism Innovation International Summit, la segunda edición de TIS ha conseguido reunir a "a 400 ponentes líderes de la industria turística presentes en 8 foros verticales y 150 conferencias durante los 3 días del congreso".
A grandes rasgos, la agenda del miércoles estará marcada por la presencia de CEOs y presidentes de empresas, así como la agenda ministerial y el vertical de Enterprise Journey, organizado por Discussion board Enterprise Journey y MeetIN. El jueves se celebrará la Tourism Regional Agenda con consejeros de turismo y por la noche será el turno de los Tourism Innvation Awards 2021. El viernes tendrá lugar la agenda de ciudades y el Touristech Startup Fest.