Más de 65 países estarán representados en la feria turística World Journey Market 2021, que se celebrará del 1 al 3 de noviembre en Londres, según ha informado Reed Exhibitions, la compañía organizadora del evento.
Tras la cancelación del año pasado motivada por la pandemia del coronavirus, la mayor feria turística del mundo volverá a celebrarse de manera presencial y de nuevo confía en atraer a much de profesionales del turismo a la capital del Reino Unido. También habrá una feria WTM digital del 8 al 9 de noviembre.
"Con las restricciones de viaje en todo el mundo disminuyendo y la confianza del consumidor aumentando día a día, el número de expositores que ya ha confirmado su asistencia al evento sigue creciendo, lo que refleja los ambiciosos planes de los profesionales turísticos de todo el mundo para reconectarse, reconstruirse e innovar", explican los organizadores.
Según indica WTM, los expositores que estarán presentes en la feria "representan una amplia gama de empresas y organizaciones turísticas, incluidas oficinas de turismo, cadenas hoteleras, líneas de cruceros, agencias de receptivo, atracciones, and so on.
¿De dónde procederán los expositores?
La representación más numerosa será la europea, con representantes de una treintena de países que asisten como expositores, "desde los principales destinos como Francia, Grecia y España a más pequeños como Cerdeña, Armenia y Gibraltar", indica la feria turística.
También acudirán Estados Unidos y la India (incluyendo las oficinas de turismo de Madhya Pradesh y Karnataka) así como "expositores de nicho más pequeños que representan a empresas y organizaciones turísticas de destinos como las Malvinas, Galápagos e Irán".
Por ejemplo, el pabellón de EEUU dará la bienvenida a 15 socios, incluidos Walt Disney Swan & Dolphin, la Oficina de Turismo de Louisiana, Memphis Tourism, Go to Mississippi, Go to Florida, LAS Vegas, NYC & Firm, Cruise America, entre otros.
Otros expositores confirmados son Perú, Guatemala, Tanzania, Sudáfrica, Egipto, Tailandia, Indonesia, Malasia, Japón, Sri Lanka y Maldivas.
Igualmente, "las regiones de Oriente Medio y el Golfo estarán bien representadas con países como los Emiratos Árabes Unidos -con Sharjah, Ras Al Khaimah, Ajman y Fujairah- además de Bahrein, Jordania, Qatar y Arabia Saudita".
Por otra parte, el stand de la Organización de Turismo del Caribe será compartido por las oficinas de turismo de Santa Lucía, Islas Caimán, Martinica, además de proveedores como la nueva línea de cruceros Tradewind Voyages y propiedades como Sunswept Resort St Lucia y Bucuti & Tara Seaside Resort. Igualmente los visitantes también podrán mantener reuniones con expositores de las oficinas de turismo de Bahamas, Barbados y Jamaica.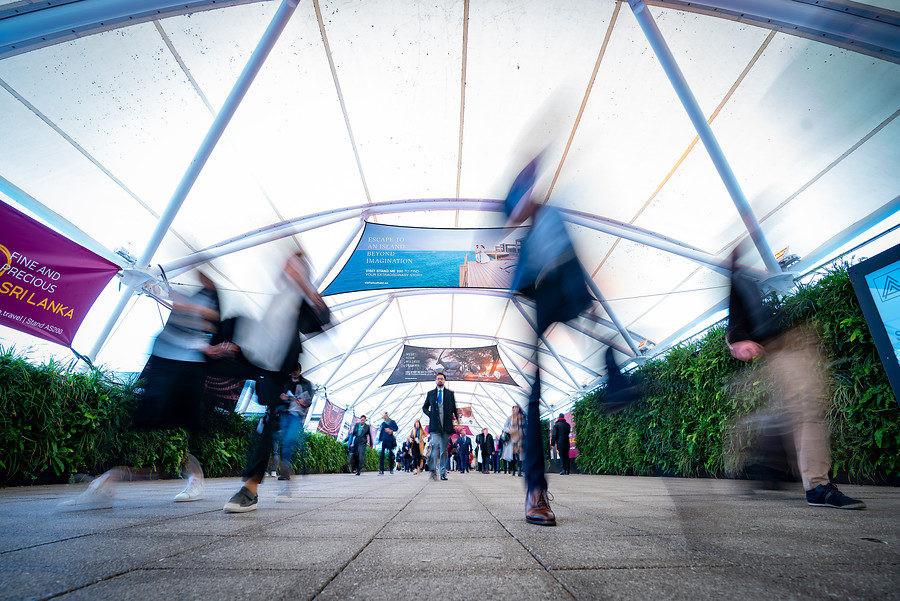 Imagen de archivo de la feria WTM Londres.
Seguridad y prevención en la feria
Según explica Simon Press, director del salón, "WTM va a ser la primera plataforma turística de conexiones a escala world que se celebra en un entorno seguro desde que comenzó la pandemia, lo que brindará a aquellas personas que asistan muchas oportunidades de negocio de cara a 2022".
Además, "la seguridad y medidas de prevención van a ser de primordial importancia durante la feria para todos: visitantes, expositores, nuestro employees, los empleados del recinto ferial, and so on. Vamos a trabajar de manera muy estrecha con Excel y con todas las partes interesadas, incluyendo las autoridades sanitarias, Transport for London, and so on, para asegurar que la feria sea un lugar seguro donde reunirse".