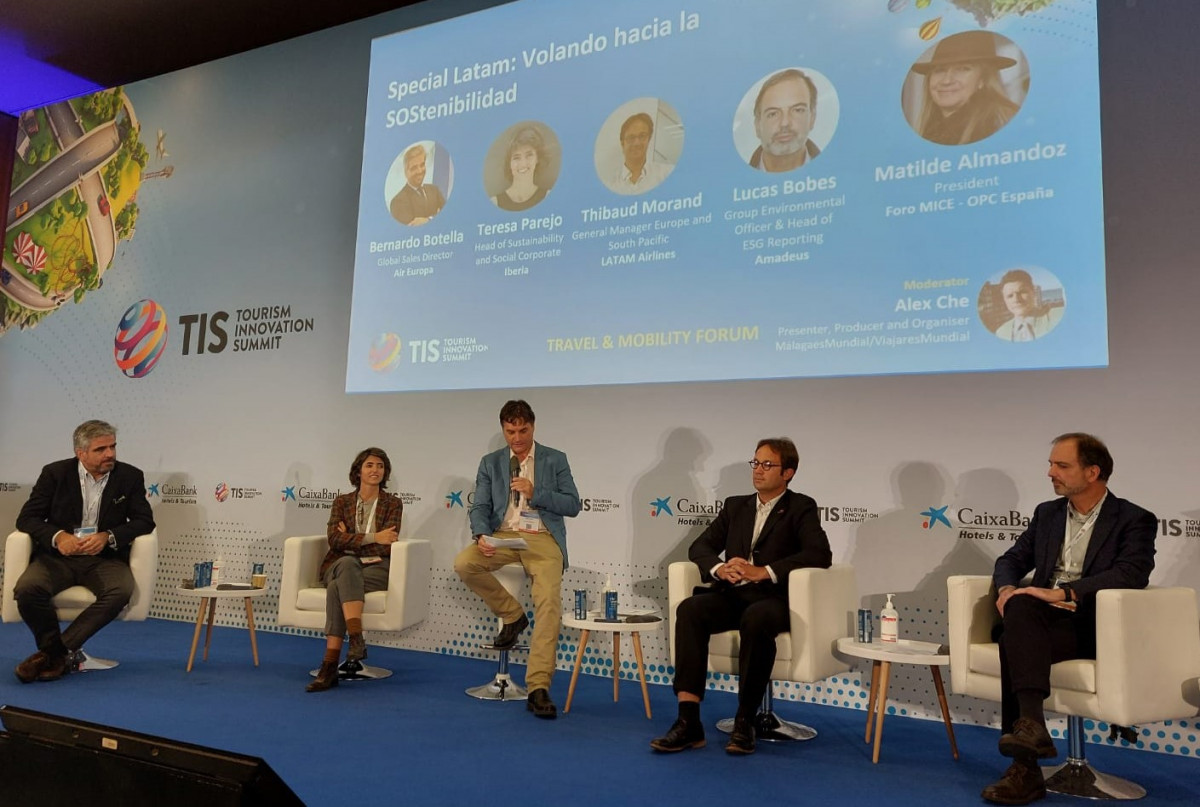 LATAM ha participado en el foro "Volando hacia la SOStenibilidad" del Congreso TIS donde se han reunido personalidades del sector turístico para debatir sobre la sostenibilidad en el sector.
El ponente de LATAM ha sido Thibaud Morand, el Director Basic de la compañía para Europa y Pacífico Sur. Junto a él han formado parte de la mesa Matilde Almandoz, President Foro MICE – OPC España; Lucas Bobes, Group Environmental Officer & Head of ESG Reporting de Amadeus; Teresa Parejo Navajas, Head of Sustainability and Social Company Sustainability de Iberia y Bernardo Botella Vélez, International Gross sales Director de Air Europa.
En las ponencias se ha abordado la disaster a la que se está enfrentando el sector aéreo y sobre ella Morand ha declarado que LATAM ha afrontado la disaster como una oportunidad para replantearse la estrategia y ha invertido este tiempo en desarrollar proyectos en Brasil, Colombia, Ecuador y Chile para concienciar sobre temas tan diversos como la gestión de cambio climático, la equidad de género y la relación con consumidores, entre otros.
Sobre sostenibilidad, Thibaud Moran ha declarado: "para LATAM la sostenibilidad es un medio para generar valor ambiental y social para las comunidades y es por ello por lo que con nuestra estrategia buscamos promover el desarrollo social, ambiental y económico en los países donde operamos, trabajando de manera colaborativa en la búsqueda de soluciones colectivas que atiendan a las demandas y los deseos de las personas".
Además, Morand ha explicado que para conseguir sus objetivos la estrategia está centrada en 3 pilares de trabajo: cambio climático, valor compartido y economía round, a lo que se incluye el cumplimiento de metas concretas como eliminar los plásticos de un solo uso para el 2023, generar cero residuos en vertedero para el 2027 y compensar el 50% de las emisiones generadas en vuelos domésticos para el 2030. Así mismo, la compañía tiene como uno de sus ejes principales trabajar para colaborar en la conservación y rehabilitación de ecosistemas icónicos en el continente Sudamericano y alcanzar la neutralidad de emisiones de carbono para el año 2050.
Para lograr su objetivo de neutralidad de emisiones, LATAM cree que es indispensable contar con tecnología y nuevos combustibles que sólo estarán disponibles a partir de la próxima década. Para ello la compañía está contribuyendo con los fabricantes de aviones y con la industria energética para que estas soluciones estén disponibles lo antes posible. Sin embargo, la evidencia nos muestra que no disponemos de esos años para esperar que lleguen las soluciones.
Pero hasta que lleguen estos avances para el sector, la línea aérea ha afirmado que está trabajando para reducir la huella de carbono a través de una mejora en la naturaleza. Con esta meta ha creado el programa CO2BIO, un acuerdo con dos etapas.
La primera etapa del proyecto está programada entre 2021 y 2023 y en ella la compañía realizará acciones de conservación que permitan elevar la captura de carbono en cerca de un 1 millón de toneladas de Co2. Además, LATAM está realizando los estudios para extender el proyecto e incrementar la captura de Co2 para 2025 hasta 2,8 millones de toneladas.
Morand también ha destacado las acciones sociales que LATAM desarrolla con su programa Avión Solidario. A través de este proyecto la compañía pone a disposición de fundaciones y organizaciones su conectividad, infraestructura, experiencia, capacidad y rapidez de manera gratuita. Dentro de estas alianzas se incluyen el Banco de Alimentos de Perú, Operación Sonrisa, ANIQUEM y ALINEN en Perú; SOLCA – HOPE, INDOT, Cruz Roja y Operación Sonrisa en Ecuador; y Operación Sonrisa, América Solidaria y el Instituto Nacional de Salud, Panthera Colombia y la Asociación Étnica Schooner Bight en Colombia, entre otros, además de contar también con alianzas en Brasil y Chile.